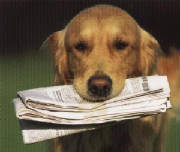 Kibble Pet Food Banks in the news
April, 2009
The Kibble Pet Food Bank Network is six months old! Since the NBSPCA launched this initiative in October, we have grown to three outlets in southern New Brunswick, with more to come provincewide. An average 60 cats and dogs a month benefit from this project! Pet food is distributed in partnership with the Sussex Sharing Club, the Hampton Food Basket and Mobile 1 in Moncton.
Thanks to your generous support, pet parents facing financial challenges are able to feed and care for their animals. As many people depend on their pets for companionship, the relief of knowing their four-footed family members have food means a lot. This keeps pets out of overburdened animal shelters, and reduces the stress on the pets and their owners that surrendering them would mean. Thanks again for all your support!
Feb 13, 2009 Global News
The information resources listed here help pet owners find timely help to care for their animals.
2009 NBSPCA Resource Directory